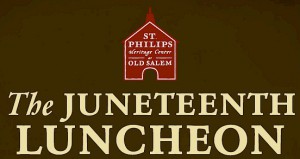 Juneteenth Luncheon

Thursday, June 4, 2015
12:00 pm - 1:30 pm
Old Salem Visitor Center
900 Old Salem Road, Winston-Salem
In celebration of the 150th Anniversary of Emancipation In Salem, please join us for a conversation with historian, Dr. Reginald F. Hildebrand, Associate Professor of African American Studies and History at the University of North Carolina at Chapel Hill.Additionally, two outstanding community leaders, Joycelyn Johnson and Rev. Stephen McCutchan will be honored and presented the prestigious Cedric S. Rodney Unity Award for service to the community. The luncheon includes a tour of the Freedom Coming, Freedom Now on loan from the North Carolina Freedom Monument Project. Tour the St. Philips African Moravian Church, the oldest standing African American Church in North Carolina, where the ending of slavery was announced on Sunday, May 21, 1865.
COST: $25 / $20 for Students and Friends of Salem
Reservations are required and must be made in advance by calling 1-800-441-5305.